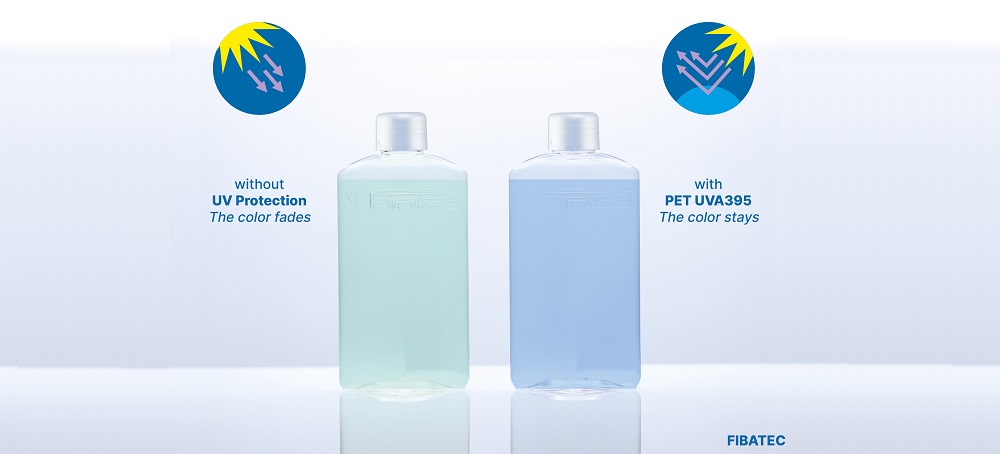 Effective protection for sensitive goods in transparent packagings
To improve recyclability of packaging plastics, clear bottles for food or cosmetics have become increasingly popular. In contrast to opaque or dark-colored plastic packagings, transparent plastic packagings offer no inherent light protection. This is, however, an important feature, as high-energy UV radiation can destroy the molecular structures of fragrances and flavorings or vitamins and cause dyes to fade.
For applications like this, we have developed a new additive batch series that is entirely focused on function: FIBATEC. This new series of additive batches based on bottle grade PET or rPET is uncolored and equipped with a UV absorber to protect the contents. An embellished variant that can compensate for yellow discoloration is also available.
The FIBATEC additive batch series has been specially developed for the protection of sensitive goods. They are free of benzotriazoles, PAAs, PAHs and contain neither CMR substances nor SVHC. Depending on the UV absorber used, they offer reliable protection in the near UV range up to 380 nm or 395 nm. Our FIBATEC additive batches also comply with EU Regulation 10/2011 on plastic materials and articles intended to come into contact with foodstuffs, FDA requirements and Chinese regulations GB4806 and GB9685. They are approved for packaging and registered in the chemical inventories in Europe (REACH), the USA (Toxic Substance Control Act, TSCA) and China (Inventory of Existing Chemical Substance in China, IECSC).
FIBATEC masterbatches are available based on PET and rPET carrier. Since the PET is post-crystallized, the FIBATEC masterbatches can be processed easily on all common equipment and are particularly suitable for single- and two-stage injection stretch blow molding.
The reliable UV protection guarantees a longer shelf life of the contents. Tests at our Technical Center have shown, for example, that bottles equipped with FIBATEC UV protection provide a 30 times longer shelf life for vitamin A compared to bottles without UV protection. Blue tinted contents retain color up to 7x longer in the UV-protected container.
https://finke-colors.eu/wp-content/uploads/news_Fibatec.jpg
588
1000
Finke-Hartwig
https://finke-colors.eu/wp-content/uploads/finke_logo.svg
Finke-Hartwig
2022-10-17 11:17:28
2022-10-17 11:25:27
Effective protection for sensitive goods in transparent packagings